The ProSeller Corner
Tell the world a little bit about yourself.
Tracie
Hi, my name is Tracie. I've been married for 18 years and I'm currently a stay-at-home mom of 4 children with one on the way. Eek!
The ProSeller Corner
When did you start designing at Zazzle and what made you choose them?
Tracie
Last year, I got my first d-SLR camera for my anniversary. I was taking so many pictures that I decided there had to be a way to put them to use. That's what drove me to search online for ways to sell my art. And that's how I discovered Zazzle.
The ProSeller Corner
Do you have any other stores at Zazzle?
Tracie
I finally got brave enough to open my second store last month. It is solely for prints. (It's pretty pathetic with only a couple of canvas prints so far.)
The ProSeller Corner
What has been you best selling product?
Tracie
That would be one of the first products I made, a thinking of you card with a photo of a pair of hands holding a yellow flower. It's special to me because it's my son's hands.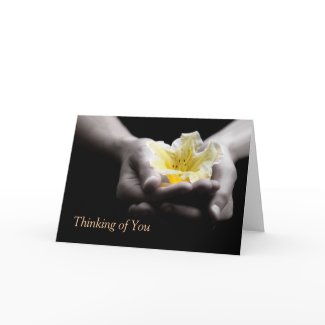 The ProSeller Corner
What do you enjoy doing when you're not working on your store?
Tracie
Making things for my store! I love my camera and my computer. Ever since I was little I was always making cards and homemade gifts for my friends and family. I also love to write. Someday I'm even going to finish my novel!
The ProSeller Corner
How do you balance your time between Zazzle and life?
Tracie
Good question! When I get going on a project, I have a really hard time switching gears, so I actually have to set the timer on myself. If I spend 15 minutes creating, I have to set 15 minutes to do my dishes!
The ProSeller Corner
How long had you been with Zazzle before you reached a ProSeller status?
Tracie
It took me a little over a year.
The ProSeller Corner
Getting noticed and becoming a ProSeller takes a lot of hard work and time. What advice would you give to those aspiring to become a ProSeller?
Tracie
Title, Keywords, and Tagging! Don't give your products flowery names and descriptions. Say exactly what it is. It makes it so much easier for the customer to discover. Also, as boring as it is, take time to promote your work. If nobody sees your stuff, it will just gather dust in the virtual catacombs.