The ProSeller Corner
Tell the world a little bit about yourself.
Diana
My name is Diana and I live on a 5 acre farmette in a 100 year old house, 60 miles west of Chicago. I've been married to my high school sweetheart for 40 years and we have one adult daughter who is a landscape designer. We've had horses for the last 30 years, but are down to one horse now. His name is Shady and he's a 28 year old Paint we bought for our daughter as a 4H project. That was 24 years ago. Several adopted Rottweilers have lived their lives out with us. We now have a Pit Bull someone abandoned on our road and hubby brought him home. We have no grandchildren yet.
The ProSeller Corner
When did you start designing at Zazzle and what made you choose them?
Diana
I started with Zazzle in October, 2010. I retired in 2005 after 20 years at a particle physics laboratory as an administrative assistant and in the early 90's started designing vector graphics on a then-new Mac FX. Four Macs later and 5 years after retirement I found myself still drawing, but had no outlet for my work. A friend on a garden forum told me about Zazzle and I jumped on board.
The ProSeller Corner
Do you have any other stores at Zazzle?
Diana
No.
The ProSeller Corner
What has been you best selling product?
Diana
Probably my Corvette drawing that's on several products.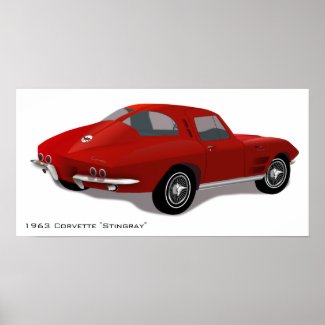 The ProSeller Corner
What do you enjoy doing when you're not working on your store?
Diana
Gardening is my next time consumer. I have 130 varieties of daylilies that I propagate and sell to landscape companies in the summer. Considering there are about 60k varieties, I'm just small potatoes. I also do photo correction work for landscape companies wanting their project's images beefed up for submission to contests and magazines (take out a slide and replace with a tree, add more plants to empty areas, replace a dead plant, get rid of the haze, etc. etc.), it's very time consuming, but pay's well.
The ProSeller Corner
How do you balance your time between Zazzle and life?
Diana
What balance?
The ProSeller Corner
How long had you been with Zazzle before you reached a ProSeller status?
Diana
Got my store up in November 2010 and made ProSeller around February/March 2012.
The ProSeller Corner
Getting noticed and becoming a ProSeller takes a lot of hard work and time. What advice would you give to those aspiring to become a ProSeller?
Diana
Do as I say, not as I do. Promote, promote and promote some more. I should listen to myself! Don't slap the same design on every product just to raise your product numbers.