The ProSeller Corner
Tell the world a little bit about yourself.
FCACshelter
I am a self-employed graphic designer and animal lover and activist. In 2009, I decided to combine my talents with my desire to help homeless shelter animals by starting my Zazzle store. I hope this will result in heightened awareness about and urgency for the adoption of shelter animals everywhere. The proceeds from all sales are donated to help local shelter animals in Frederick, Maryland.
The ProSeller Corner
When did you start designing at Zazzle and what made you choose them?
FCACshelter
I opened my Zazzle store in 2009 after opening one at Cafepress in late 2008. I liked the ability for the customer to customize the products such as the fonts and colors or personalizing with a name.
The ProSeller Corner
Do you have any other stores at Zazzle?
FCACshelter
I have another Zazzle store,
Flower Gifts
, that features my husband's floral photography with my designs.
The ProSeller Corner
What has been you best selling product?
FCACshelter
The most popular designs are my Peace Love Paws.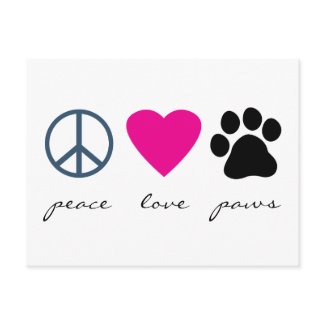 and All My Kids/Grandkids Have Paws product lines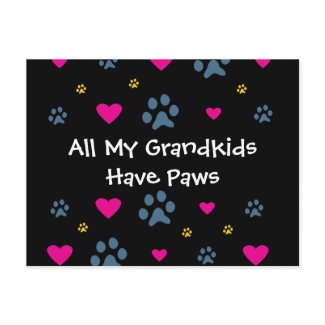 but not necessarily a particular type of product from either one.
The ProSeller Corner What do you enjoy doing when you're not working on your store?
FCACshelter Outside of work and working on the stores, we take care of our 3 mixed-breed dogs, who all came from shelters; volunteer at our local shelter when we can; and raise awareness for shelter animals every chance we get.
The ProSeller Corner How do you balance your time between Zazzle and life?
FCACshelter It is difficult. I can only work on the stores when I do not have paid work to do, and I'm still adding dog and cat breeds to the store! We have 16,000+ items and counting!
The ProSeller Corner How long had you been with Zazzle before you reached a ProSeller status?
FCACshelter It was about a year and a half.
The ProSeller Corner Getting noticed and becoming a ProSeller takes a lot of hard work and time. What advice would you give to those aspiring to become a ProSeller?
FCACshelter Wow. It's been very time consuming because you not only have to come up with designs but then take the time to create the items, keep up with any items added since that time, then promote the stores. I have seen sales increase recently and maybe that is due to the changes Zazzle has been making, but I definitely think it helps to have knowledge of SEO and really read through the forums to get more info about the elements of Zazzle (product names, tagging, etc.) and how they work, so you can make the most of them.