The ProSeller Corner
Tell the world a little bit about yourself.
Stacy
My name is Stacy and I live in Colorado, although I am originally from Washington State. I'm married with one child who keeps me on my toes.
The ProSeller Corner
When did you start designing at Zazzle and what made you choose them?
Stacy
I started on Zazzle in 2006 after doing an online search for places where I could make and buy my own t-shirt. Zazzle didn't have an order limit and seemed to have the best set up, so I tried it out and have been here ever since.
The ProSeller Corner
Do you have any other stores at Zazzle?
Stacy
I have 2 other shops at Zazzle. My main shop is just a little bit of everything that makes up who I am. One of the other shops is
RdwnggrlEquality
which I started to showcase all of my pride/lgbt gear. I'm very active in equal rights for the gay community and my wedding products for the brides or grooms has always been very popular, so now they have their own shop!The other shop is
RdwnggrlPhotography
. This is my new home for my photography. Most of it nature - flowers, trees, sunsets, waterfronts. But I have other topics mixed in here and there.
The ProSeller Corner
What has been you best selling product?
Stacy
I have a couple of invitations that have been very popular for me, but as they are more "bulk" sales, in terms of numbers, I guess I would have to say my best selling individual product is my "Where There Is Music" tote bag.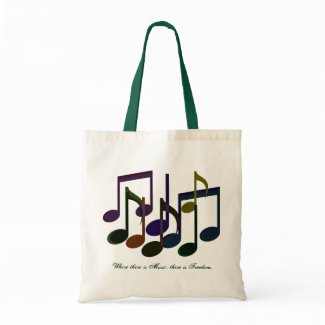 The ProSeller Corner What do you enjoy doing when you're not working on your store?
Stacy I love to spend time with my family - taking walks, watching the sunset, watching movies. I also watch a lot of sports.
The ProSeller Corner How do you balance your time between Zazzle and life?
Stacy It depends on the day. Because I work outside of the home, as well as raise my son, my time on Zazzle is somewhat limited. But when I have time and ideas, I do my best to juggle both Zazzle and home life. Multitasking is my friend.
The ProSeller Corner How long had you been with Zazzle before you reached a ProSeller status?
Stacy I was on Zazzle for about 4 years before I reached ProSeller status. I hit that milestone, however, only about a year after really putting an effort into turning this into something successful. Before it was for fun, for myself, and for my friends. Once I realized strangers were buying my designs, then I put my all into it.
The ProSeller Corner Getting noticed and becoming a ProSeller takes a lot of hard work and time. What advice would you give to those aspiring to become a ProSeller?
Stacy Just keep working. If you don't have time to create a bunch of products, then do what you can, then promote them as you can. Blogs. Twitter. Facebook. Emails. Do them all!