The ProSeller Corner
Tell the world a little bit about yourself.
Margaret
I'm Margaret Chayka, a single, middle-aged gal in the Twin Cities, Minnesota area with one precioussss daughter and two cats. In 1998 I decided to become a personal chef, and since my first passion was doodling and drawing, it was a pretty natural transition to graphic design with the professional foodie in mind. It all started in 2004 when I produced a custom logo for an online chef acquaintance and I just spread the word. In those early days I was just using Powerpoint!
The ProSeller Corner
When did you start designing at Zazzle and what made you choose them?
Margaret
The perfect storm leading up to my Zazzle store was a company layoff, a desire to abandon Cafepress, and a switch from custom to 100% pre-made logo and graphic design. I started
Chef Catering Biz
Cards
in late June of 2009 while I had time on my hands.
The ProSeller Corner
Do you have any other stores at Zazzle?
Margaret
I recently decided to shift my existing
Culinary Note Cards
store at Zazzle to a 100% Christmas shop for foodies: holiday cards, "from my kitchen" stickers and tags, and tree ornaments. I sell a lot of culinary Christmas cards, at Zazzle and elsewhere, to produce sellers, kitchen design companies, cooks, bakers, you name it. In August, 2010 I opened up a new store called
Events and Holidays
which will contain gifts and stationery for everything from birth to...well, you know.
The ProSeller Corner
What has been your best selling product?
Margaret
This binder is totally popular, and it's no wonder why. A watercolor style single red stand mixer, with nifty checkerboard and diamond tile in sage and charcoal.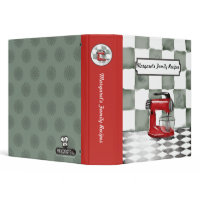 From
Culinary Note Cards
and beyond, my top seller for 2009 was this charming snowman chef with snowball platter; I design a new snowman every year.
The ProSeller Corner
What do you enjoy doing when you're not working on your store?
Margaret
That turns out to be very little time! I'm crafty as well - I sew handbags and am working on a Wordpress to sell them on. I don't like the restrictions of online "craft sellers" sites, and if you goof off instead of sewing, they turn your store off! I also love - when I have the time - to play video games and go to the movies. If it can be killed or blown up, I'm all over it, hee-hee!
The ProSeller Corner
How do you balance your time between Zazzle and life?
Margaret
I'm pretty much a workaholic, and my daughter's grown up and family is spread out all over the place, so I'm pretty much a free agent. I have a full-time job, but it doesn't start until 9:30, so as an early riser I get in a good 4 hours of designing before heading out to the rat race.
The ProSeller Corner
How long had you been with Zazzle before you reached a ProSeller status?
Margaret
About 6 months. I was surprised by all of it, since my experience at Cafepress was quite different. I made my first sale quickly, too, which was astonishing.
The ProSeller Corner
Getting noticed and becoming a ProSeller takes a lot of hard work and time. What advice would you give to those aspiring to become a ProSeller?
Margaret
I can't say that I know any secrets - I design a lot of stuff, so uploading my designs to Zazzle is fairly regular; most of my sales come from the marketplace so I make sure my keywords are descriptive and target my market. I make announcements on Facebook, then it auto-loads to Twitter, but my blog suffers from neglect on a very regular basis! Since my Events and Holidays store will cover a larger market, there will be a need to buckle down on more marketing, but I'll see how it goes.