The ProSeller Corner
Tell the world a little bit about yourself.
Briana
My name is Briana Blair, I'm an author and artist living in central GA with my husband Eric, cat Jynx and cockatiel Stoli. Hubby and I work together on our Zazzle shop. It's pretty cool that we're both artists and both wanting success from our work.
The ProSeller Corner
When did you start designing at Zazzle and what made you choose them?
Briana
A few years ago, I don't remember exactly when. Like many I was part of the exodus from CP. I hear about Zazzle through online friends and went to check it out. Zazzle is now where we have all our work, we really love it.
The ProSeller Corner
Do you have any other stores at Zazzle?
Briana
I do have another store, which I don't pay as much attention to as I should. It's called
Mandala Magic
, and it's for my kaleidoscope mandalas, which I do simply for the joy of it. I probably have too much fun tweaking and playing to get just the right look. When I break out Kaleider I'm likely to make 100 or more images in a day!
The ProSeller Corner
What has been you best selling product?
Briana
Sexy Legs Blue Stilettos Keychain.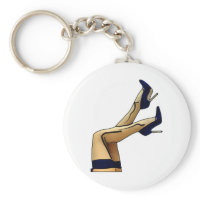 This is actually our biggest selling design overall. I'm not sure why, but it's amazingly popular. So popular in fact, that I made 3 different recolors which are also selling now!
The ProSeller Corner

What do you enjoy doing when you're not working on your store?
Briana Playing on MindJolt games, watching TV with hubby and writing. I'm actually in the process of writing a few new books. I'm probably a little odd in the fact that I enjoy work more than anything. I just love creating things and sharing them with the world.
The ProSeller Corner

How do you balance your time between Zazzle and life?
Briana I work from home, so it's not a big deal. Hubby and I work as much as we want, and then we don't! Sometimes we work for 2 hours, sometimes most of the day. We do have daily minimums we try to keep, and I am no longer allowed to work all day and into the wee hours of the morning. Heh, what can I say, I'm a workaholic!
The ProSeller Corner

How long had you been with Zazzle before you reached a ProSeller status?
Briana A year and a half I think. It took longer than I expected, but I'm glad to be there now, and can't wait to move up the ranks.
The ProSeller Corner

Getting noticed and becoming a ProSeller takes a lot of hard work and time. What advice would you give to those aspiring to become a ProSeller?
Briana Create a lot of good content, put it on a lot of products, and just keep at it. You WILL get there! it's also a really good idea to join one of the FaceBook groups or other groups where established sellers will help you learn what you need to know and give you support along the way. I'd be lost if not for the groups I found, having fellow Zazzlers for friends can really keep you motivated and encouraged during those times when sales are slow.